When I saw that the
Art Elements Theme Challenge for July
was Upcycle, I knew I would have to post SOMETHING. Almost everything I create includes some kind of upcycling in it. I really could just make a long list of links and pictures and be done with it. But, it's more fun to share something new. So, before I get to a very short list of some of my previous upcycled projects, here's the "something new" I created.
Before I go any further, let me explain what upcycling is. Here's the quick definition.
Basically, it's taking something old or intended for the trash and transforming it into something new or using it in a new way. This is the basis for most of the art I create day in and day out. So, I was almost intimidated by this being the theme for the challenge, because upcycled art is my everyday. Anyway...let's get back to that sweet little pendant I made.
I began with a tiny round tin.
It's a tin for clock springs (I hauled in a TON of these at the beginning of the month and will have a thrifty haul to share next week.) This one had no counterpart and needed a new purpose. So, I started with it.
After creating loops in the tin with headpins, I layered UV resin, paper, rub-ons, lace, and a paper butterfly (from a Tim Holtz Ephemera pack) in the recess of the little tin.
I layered and layered until I came up with something that made me happy.
If you're interested in learning more about the process I used, I will have a video reveal on the
CraftyHope YouTube Channel
on Saturday at noon (CST) that shows a very similar technique with a basic bezel.
I'm really tickled with how well this pendant came together and can't wait to integrate it into a full necklace. As well, I have a massive stash of more of these tins now that will also be transformed in the future (yay!)
Now, I mentioned that I also upcycled loads of other things and would be remiss if I didn't share a few of them. First, almost everything in the CraftyHope Etsy shop includes some kind of upcycled item (almost). Old cookie tins are one of my favorite items to upcycle into my jewelry.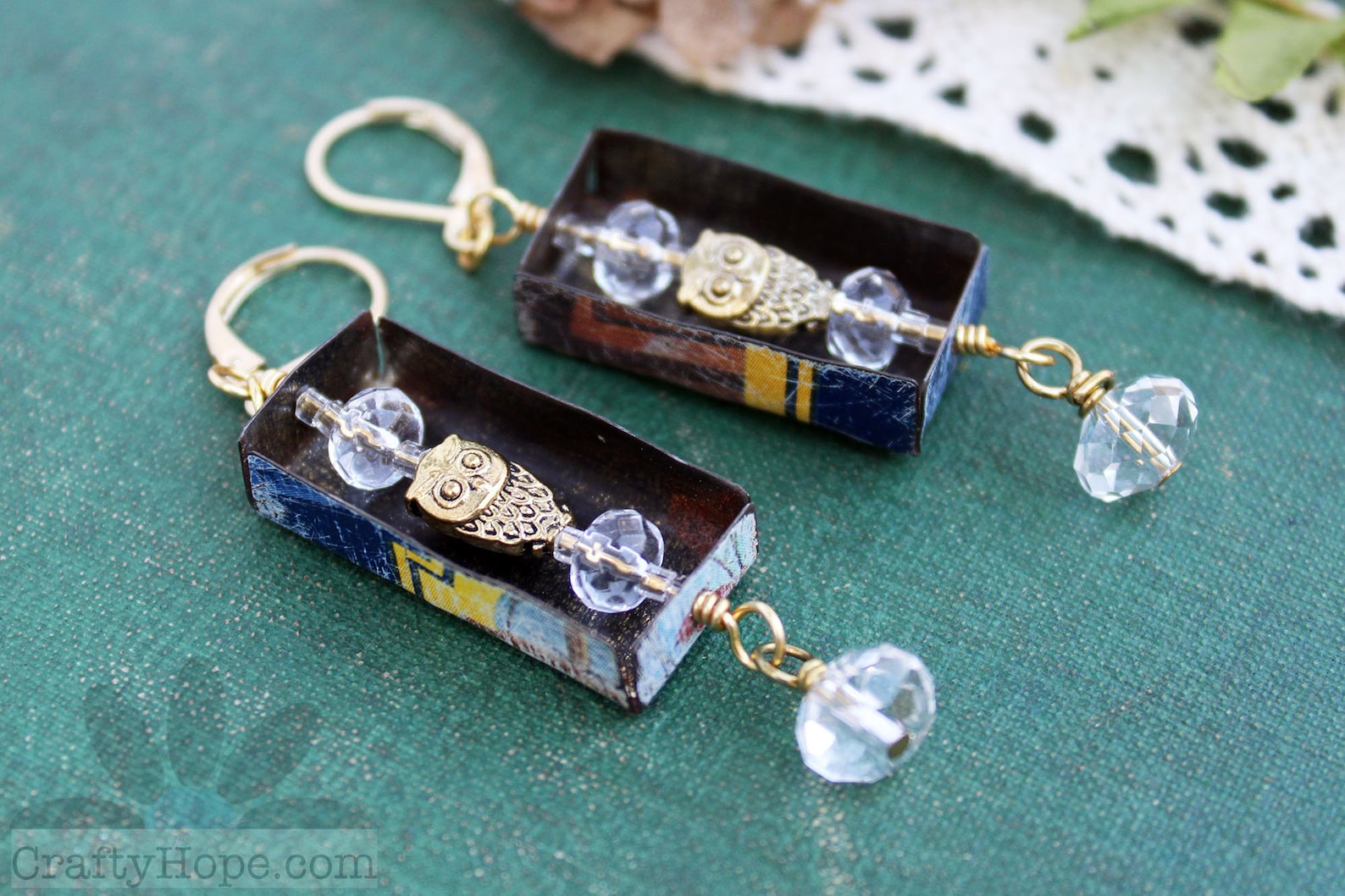 Found objects are also often used in what I make.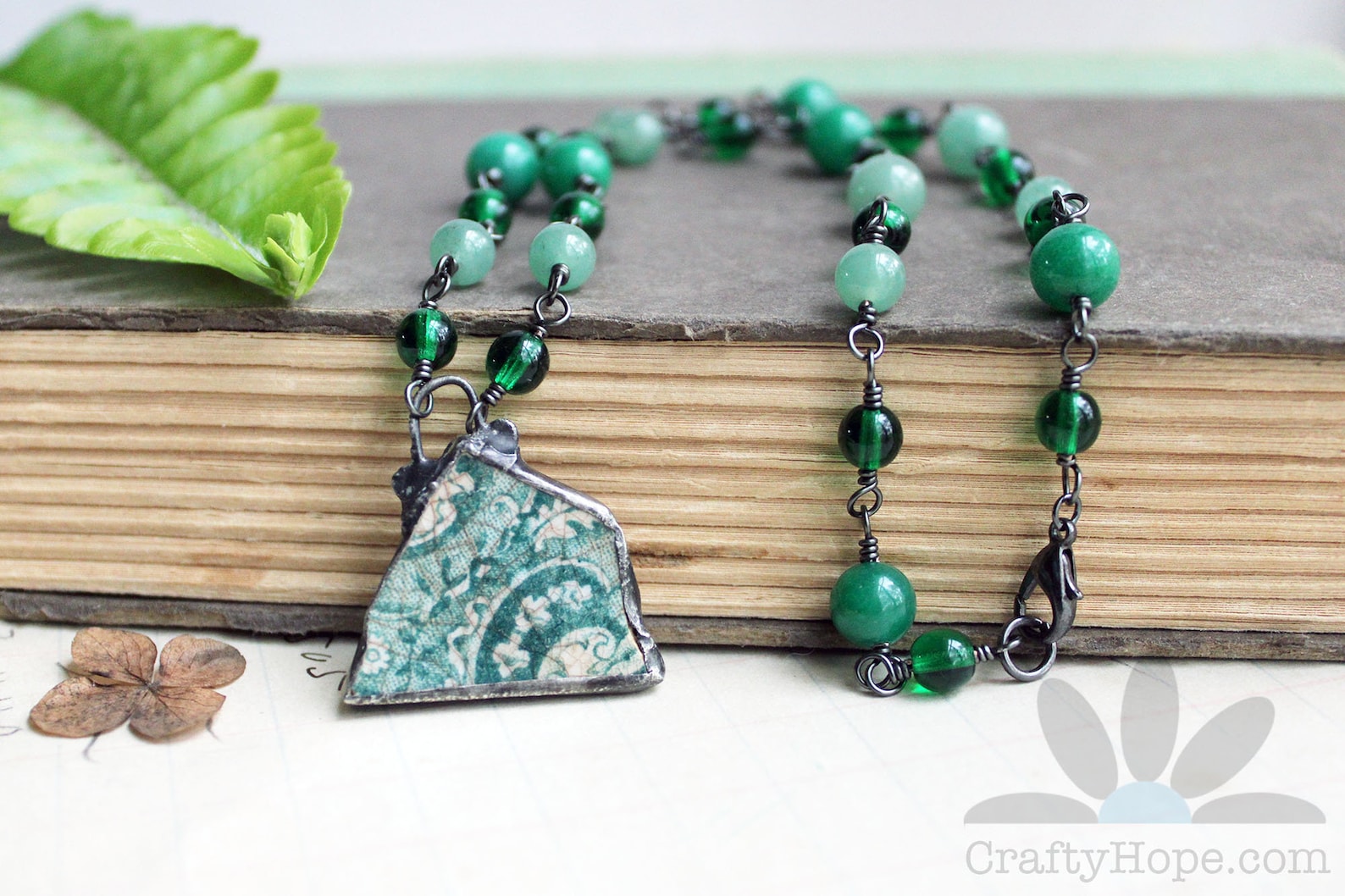 Admittedly, I did not personally find the ceramic shard that's the focal piece of this
Green Pottery Necklace
, but I did give it new life with the addition of some solder and beads.
Recently, I took old leather belts from the thrift store and made them into cuff bracelets.
Eventually, I will add other elements to them for personality and interest like this one that had (more) tin riveted to it.
But, it's not all jewelry-making for me. The most-watched video on my YouTube channel is my
DIY Junk Drawer Wind Chimes
video in which I show how to use an old tin can, wire, and items from your junk drawer to make a "wind chime."
If you're interested in some of my other videos on upcycling, there's also a
Mixed Media Fairy Nook
that was created for the Art Elements Repurposing theme challenge in April 2019 as well as my
DIY Assemblage Owl
that I made as part of the February 2019 "Birds of Prey" theme.
And, my mixed media paper projects almost always include the upcycling of various paper materials (old book pages, receipts, photos, etc.) I confess that I am an upcycling maniac! But, alas, I didn't get much more made new this month specifically for the challenge. So, I hope some of those other older projects will inspire you to take something old and make it into something new and amazing. I mean, otherwise, it's just going to take up space in a landfill. Don't let that happen! Make something beautiful instead.