It's been quite a few weeks (maybe months) since I actually finished all the pieces in my latest Bead Box, but getting around to getting all the pictures has been tough. I'm finally ready to share what became of the gathered components of Bead Box 14.
Let me quickly explain that t
he Bead Box is simply a basic 17-compartment plastic organizer in which I place the components for designs to be made later when I travel or my inspiration wanes. This was the fourteenth version of this box. I flew through it as it was perfect for keeping my hands busy after my accident. Here's what I made.
This first piece was a simple custom order from an Instagram friend who spotted the ceramic shard in one of my pictures and knew exactly what she wanted. Easy enough!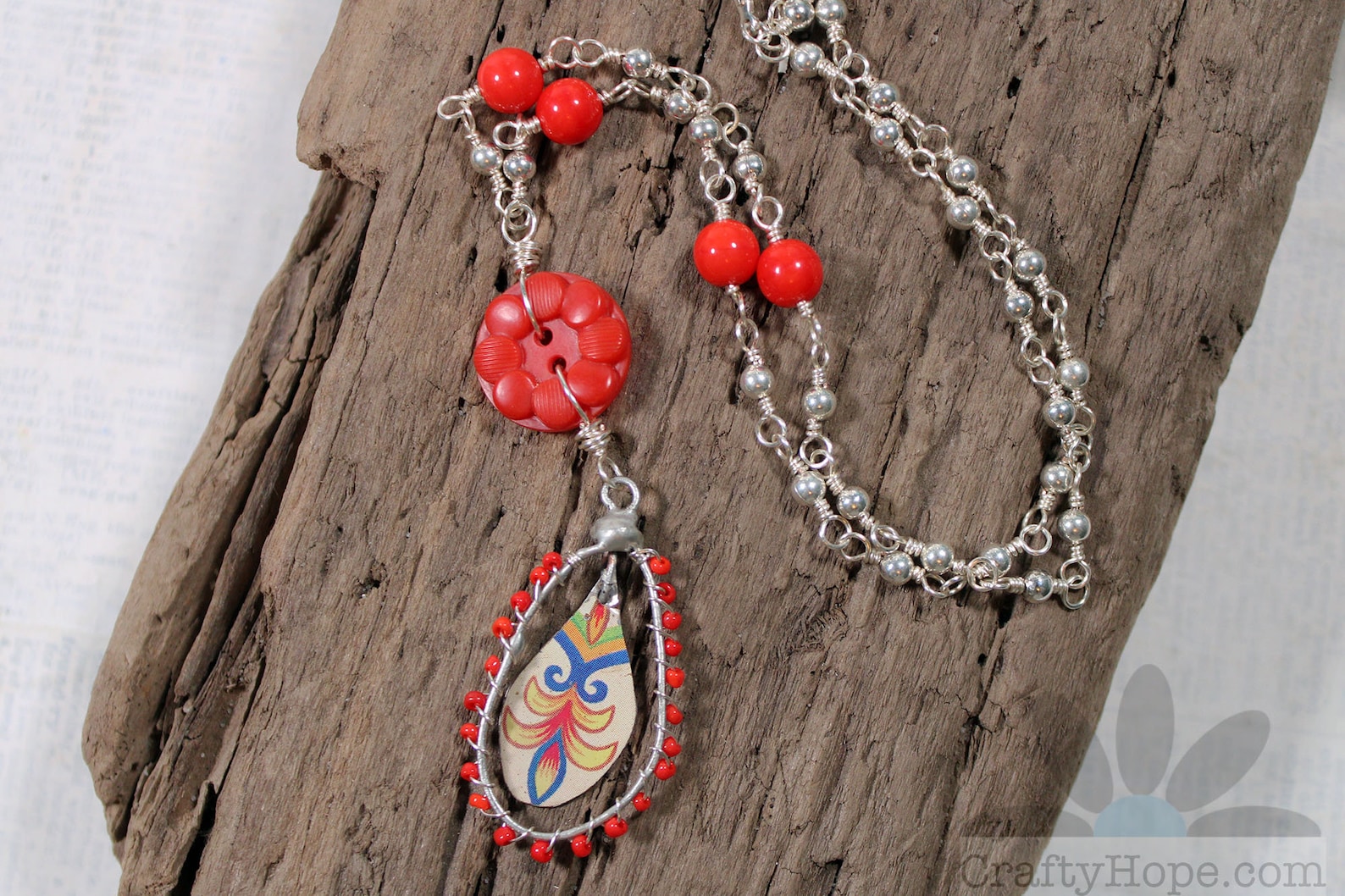 There really wasn't much to pulling this Red Framed Necklace together either. It can be found on Etsy.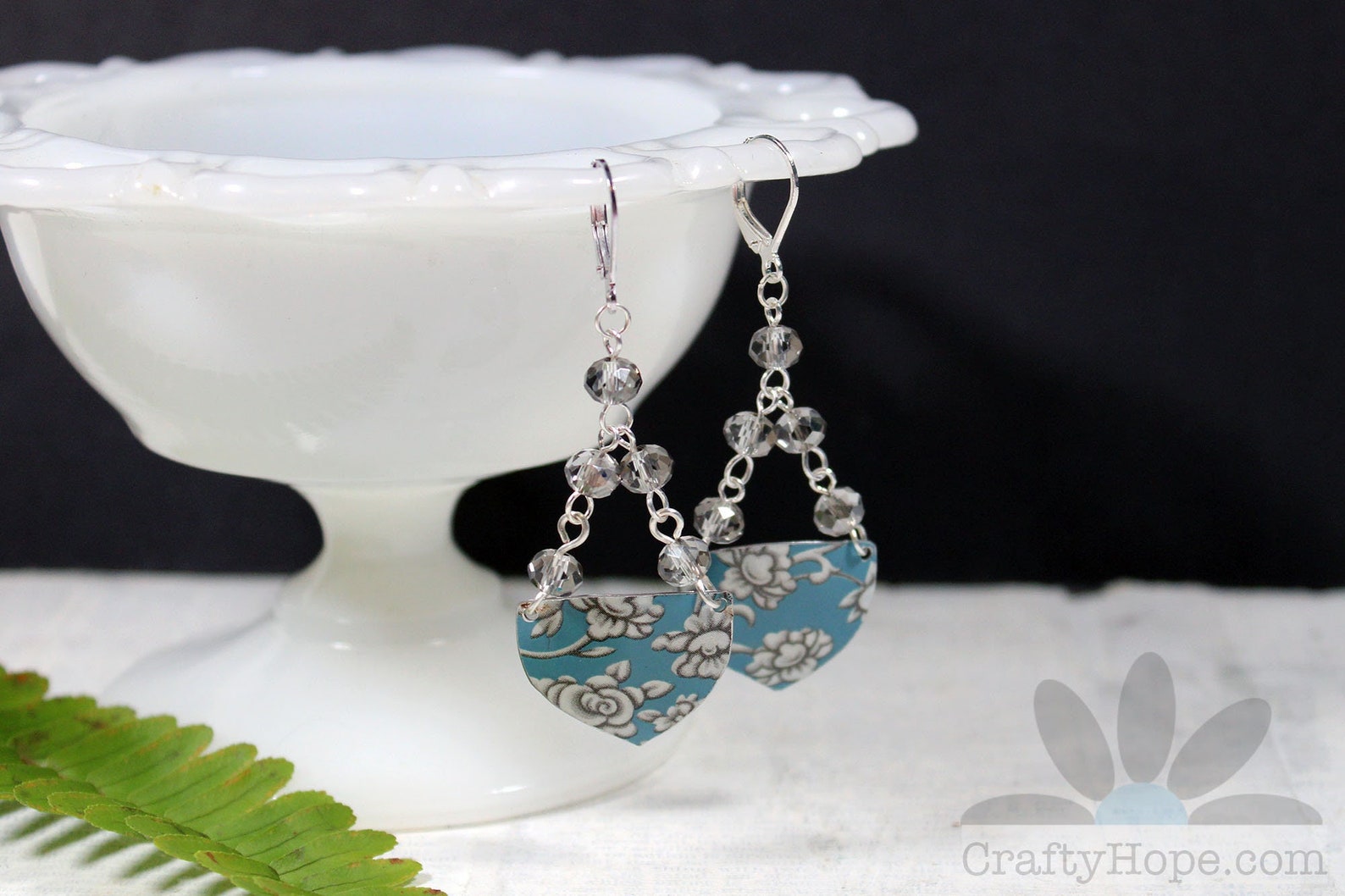 I was so excited about this earring design that I started pulling it together before it even made it into the box! It didn't take long for me to get these Fancy Free Earrings made since they just needed a few simple loops. They're now in the Etsy shop.
This little blue bracelet finally got made. (It had been in the last bead box too.) I've already taken it up to the booth at Southern Antiques and Accents (SAA).
I'm still a little mystified with myself that the basic components for these earrings wound up in the box. Of course, they came together quickly and have already sold out from the Etsy shop.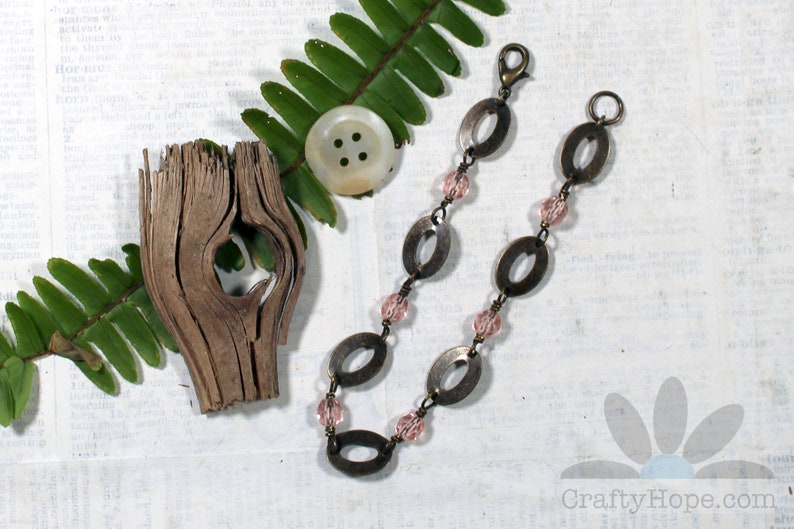 Wrapping each of the pink beads to the brass links for this Pink and Brass Bracelet kept me busy for a little bit. This classic beauty of a bracelet is available on Etsy.

The tiny beads and links in this bracelet kept me even busier. However, it's so tiny that I think it needs something else to go with it to bulk it up. That's yet to be decided. Stay tuned.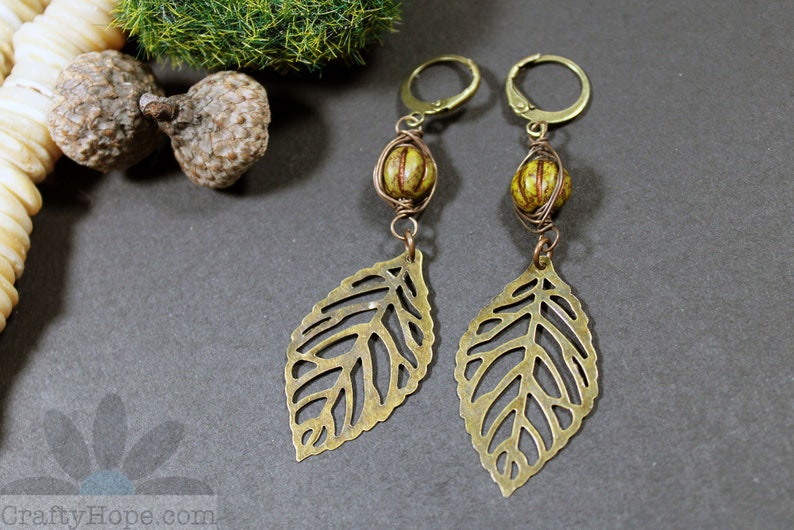 There's something about these brass skeleton leaves that gets me every time. I'm so glad I've got more of them. For now, I simply combined them with Czech glass beads and my attempt at a herringbone wire wrap (I'm learning.) These Herringbone Leaf Earrings are already in the Etsy shop.
Well, dang. I used these bits to make a necklace for one of our nieces for Christmas. I was in a rush to get it made, wrapped, and sent to her. Somehow, in all of that hullabaloo, I forgot to get a picture of the completed necklace. It's a pretty simple piece with a chain of clear and black beads alternating on gunmetal-colored wire. I'm sure you can picture it now.
Just a few wrapped beads and a length of chain were all that was needed to complete this little thing. I have a friend that expressed interest in it that will get first dibs before I decide if it needs to end up elsewhere.
These gorgeous earrings took almost no time to pull together. And, they weren't in the Etsy shop long before they sold either.
These are indeed simple copper earrings. I've taken them up to the antique store.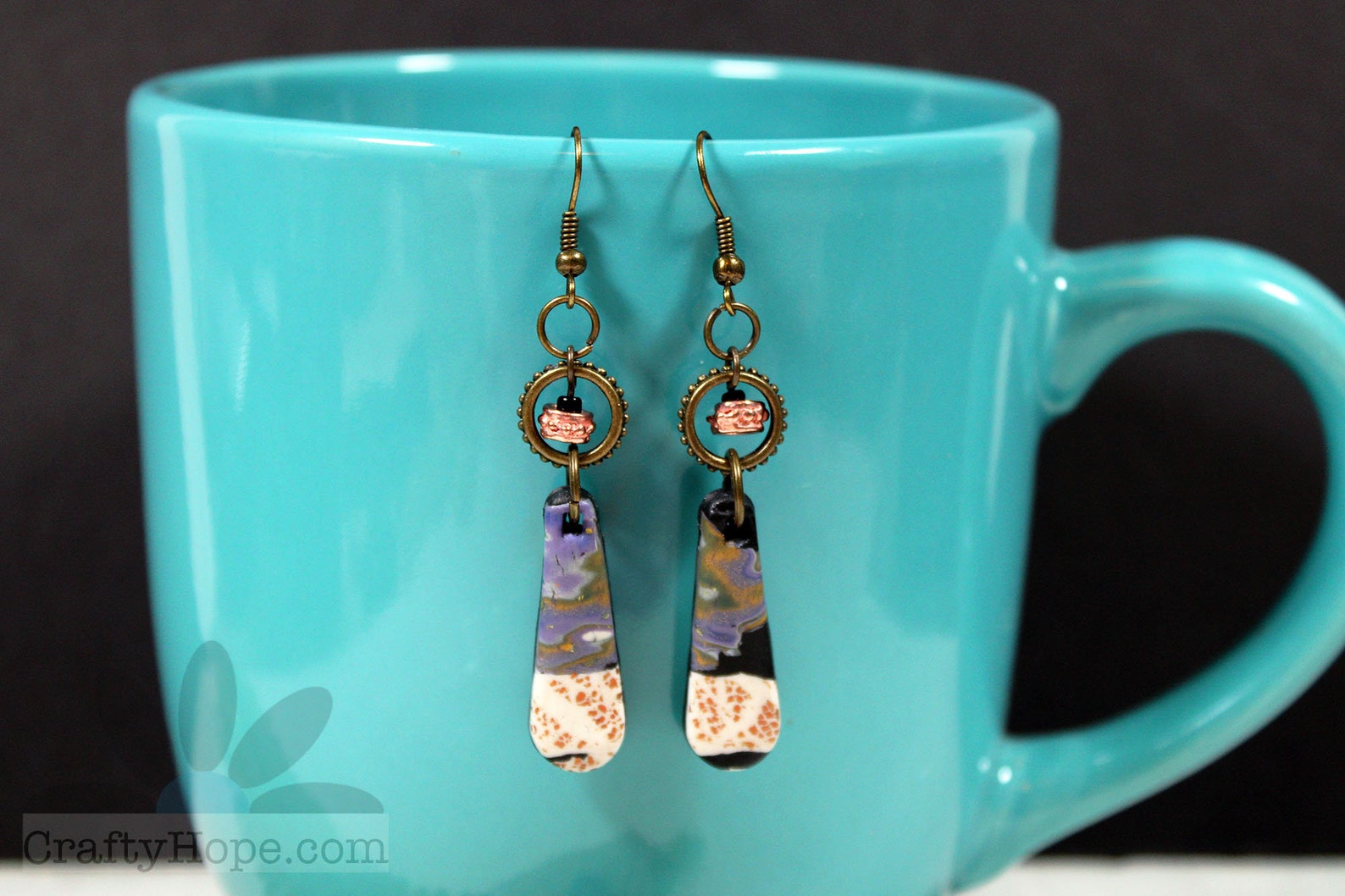 I totally forgot how I wanted to pull these Galaxy Earrings together with the pieces I had in the box and struggled a bit to get these to come together. But, I'm happy with the final result either way. They can be found on Etsy.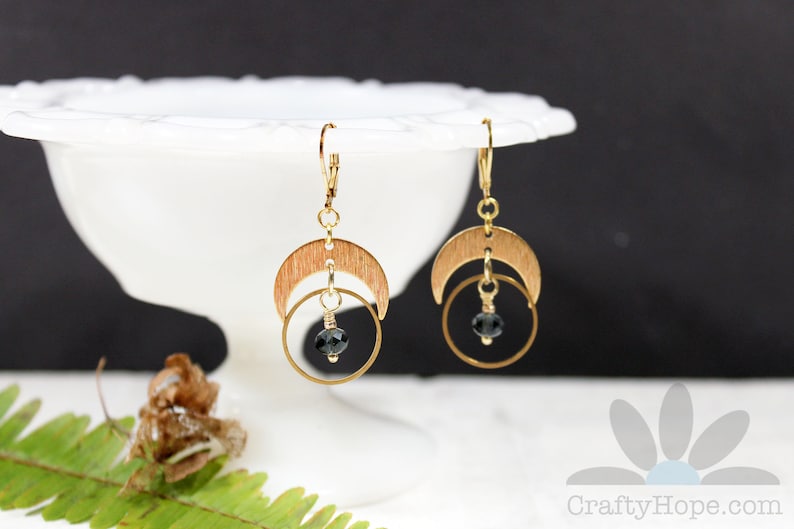 Likewise, the elements for these Golden Moon Earrings left me a bit mystified. But, they came together beautifully and are in the Etsy shop.

I'm not sure what else I might have done with these tin strips that I cut out ages ago. This final design really doesn't speak to me, but I've taken these earrings up to the booth in Fairhope anyway.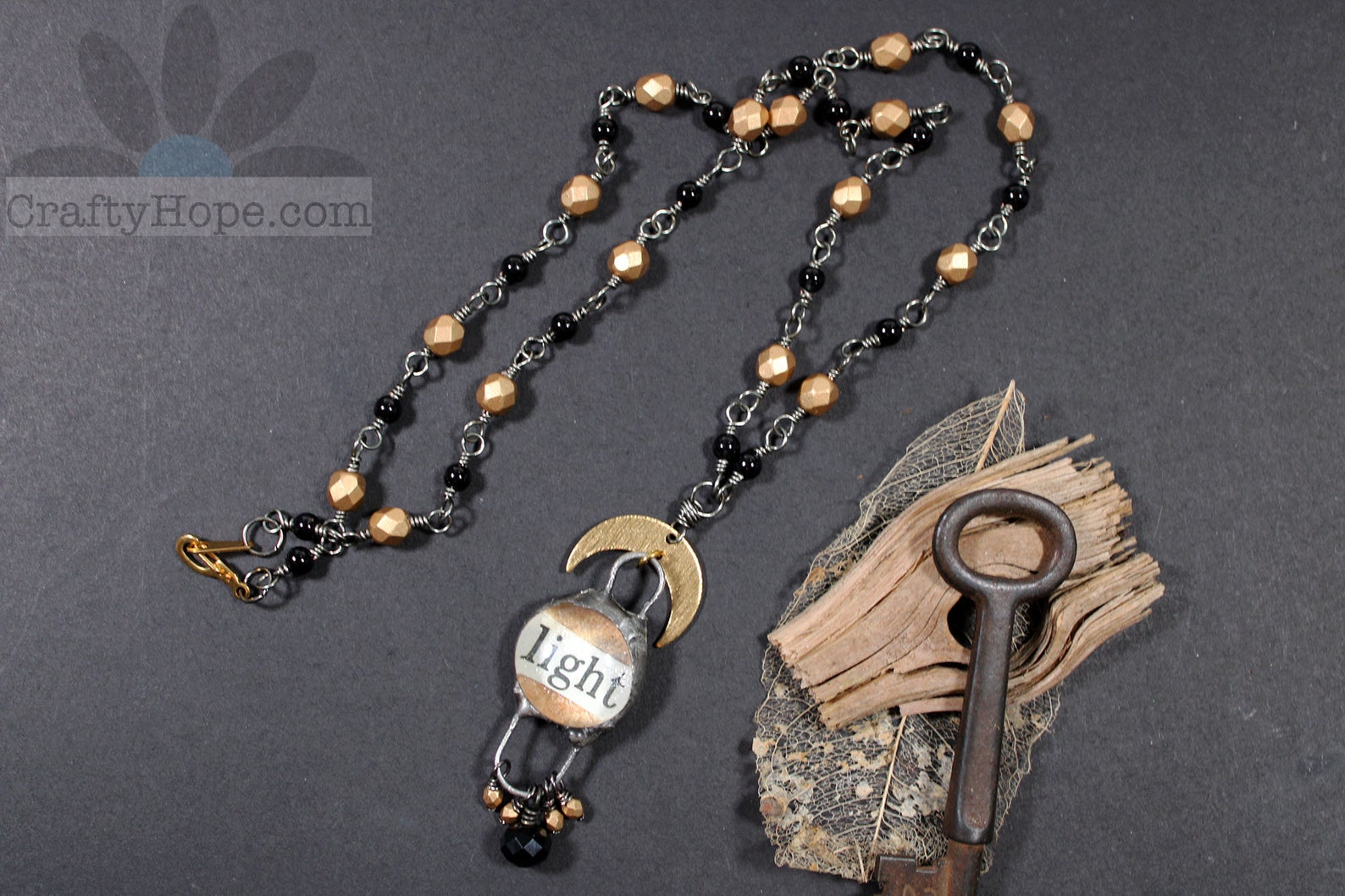 I knew this was going to be my favorite design, and I was right. This Moon Light Necklace was listed in the Etsy shop today. Though, I'm tempted to keep it for myself!
Finally, these pretty little stacked crystal earrings were a cinch to pull together. They've available in the booth at SAA.
And, that's the whole box. If you're interested in seeing previous boxes, here's the full list of all those posts.
I have to admit that I haven't begun to stock Bead Box 15 yet as I've only yesterday begun to walk independently (boot on, limited crutches.) But, once I start getting the rest of the house back in order, I can see that coming together soon.
Which of these is your favorite?