Cooking
. . . Nothing tonight since I'll be away from home for a few hours. But I do have a full meal plan including this
broccoli, cheese, and potato soup
for tomorrow night, spicy black bean burgers on Saturday, and grilled pork chops on Sunday.
Quick question: Are y'all interested in me sharing my meal plans again? I noticed those posts weren't getting much attention so I stopped. Let me know as I still plan every week's meals.
Creating
. . . Some altered playing cards for a swap.
Here's a little blurred peek at the cards. (I don't want to ruin the reveal for my swap partner)
Drinking
. . . Coffee, so I can function.
Eating
. . .Nothing at the moment, but I am contemplating an everything bagel with avocado on it (though my menu dictates that I should make a smoothie.)
I gave in. . .The avocado was a little icky, but I got out what I could. It was delish!
Enjoying
. . . A little more order and routine in my life now that the move is over, and I can get everyday tasks accomplished.
Finding
. . .The magic of our new place unbelievable and awesome as we keep discovering new treasures.
Pat unearthed a 4x4 pole that had this odd metal ball and spike on it. I have no idea the purpose, but the patina totally catches my eye!
Hoping
. . . The other house sells soon so we can really focus in on making this one ours.
Knowing
. . . I have to have patience, the right buyer will come.
Listing
. . .This lovely, romantic keyhole necklace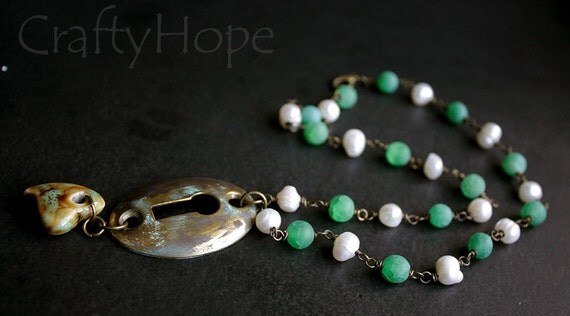 Blue-green Brass Keyhole Necklace
Making
. . . A video of my process for the altered playing cards. (Though I'm still working on editing the video of the last set of cards I made.)
Marveling
. . . Over the little things
I'm always distracted and mesmerized by dewdrops or water on leaves.
Needing
. . . To really think about my business of being a jewelry-maker and make some decisions. Basically, I need to FOCUS.
Playing
. . . Too many games on my phone. I really could be spending that time promoting my business, communicating with others, brainstorming designs or blog posts or whatever. Instead, I go brain-dead and mindlessly play puzzle games. GAH!
Reading
. .. Nothing at the moment. Despite Harry Potter and the Chamber of Secrets sitting on my bedside table, I can't seem to pick it up (no worries, I have read it a few times already). I really should get to the library and find me something new.
Any recommendations?
Relishing
. . . In this living in the country thing, I think.
How cool is that oak tree rising from and above our little bamboo jungle?

Thinking
. . . I really should plan something for my 40th birthday next week or I'll be disappointed I didn't. However, I have no idea how I want to celebrate it and would really rather someone else plan it for me. (I'm so very lazy.)
Wanting
. . . It to stay warm longer so we can enjoy the pool. Alas, I think the temps have dropped too far to keep that hope alive.
Wearing
. . . Warmer clothes today as even the air is a little chilly this morning.
Wishing
. . . There was more time in each day. (Do I always wish for that in these posts?)