It's been a while since I've shared some of the pieces available in the
CraftyHope Etsy shop
. Right now, I've got lots of jewelry that feels like summertime to me.
There's just something about a bright pop of color that screams of summer. These earrings display that well.
While the color in this bracelet is a bit more subdued, there's still lots of it. The blue is beachy and the sparkle is reminiscent of the sun glinting off the waves.
Something about the rustic-ness of this necklace hints of autumn, but the blue-green and pearly white highlights look like frothy surf.
You saw these bracelets in my
ZnetShows Creative Spark reveal
. I could see the argument that they are more winter-related. However, sea glass will always bring it back around to summertime.
Again, I can see this one as perfect for Winter, but the lightness and airy-ness of it gives off a summery vibe.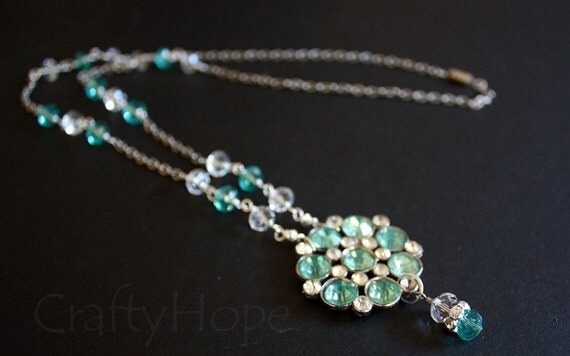 Aqua Flower Brooch Necklace
Lastly, the quirky and bright nature of these earrings are a fun little pop of summer. Of course, I see them transitioning well into the Fall with the rusty found objects in them.
Of course, there's more
in the shop
and more coming. I'll be transitioning to more fall-inspired accessories before too long. What do you look for in seasonal accessories?