Since I shared my obsession for and collections of
found objects
the other day, I might as well show you some of the jewelry in the
CraftyHope Etsy
shop that I've made with found treasures of the same ilk.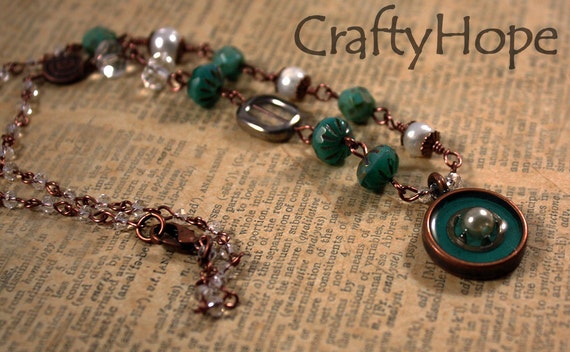 The focal in this Island necklace was made with some sort of found sewing notion (a grommit maybe) and a hollow pearl-like bead, both found.
Keys and buttons are some of my favorite found objects as you can see
There's quite a few more examples in the shop that you can check out for yourself.
As a side note; my grandmother was admitted to the hospital yesterday with some breathing issues. I'm staying with her for the time being. As such I'm not sure how present or absent I'll be for the next few days. Please say a little prayer or send us some good vibes for a speedy recovery.