The holiday season is undeniably upon us. It's only a few days until Thanksgiving and then it's all downhill to Christmas. I know several of my friends have already started decorating. And, in going through my blogrolls the other day, I noticed that at least two of the sites I follow are having handmade ornament hops. These sound like a great dose of fun and a good way to get in the holiday spirit, so I decided to look around for inspiration. I started with my Pinterest boards and fell down that rabbit hole. When I emerged, I realized that it might be nice to share some of the holiday pretties I discovered in case you need a dose of inspiration so you can participate in one of these hops or an ornament swap too.
I'm linking back to all of the original blog posts and instructions, so
if you want to pin or share them, please make sure to visit their creators and don't pin from here
!! For now, here's a better look at each of them!
1. Jenn from Jennuine used chandelier crystals, beads, and family photographs to create
Crystal Family Photo Pendant Ornaments
. Chandelier crystals are pretty easy to find at most antique stores. Of course, most places (even hardware stores) that sell light fixtures often have chandelier crystals too.
2. Toilet paper rolls and loads of glitter are two of the main ingredients for this adorable
Up-Cycled Toilet Paper Tube Ornament
from Diana of Adirondack Girl @ Heart. Learning I can make something this precious with TP rolls, make me feel a little guilty for throwing them away.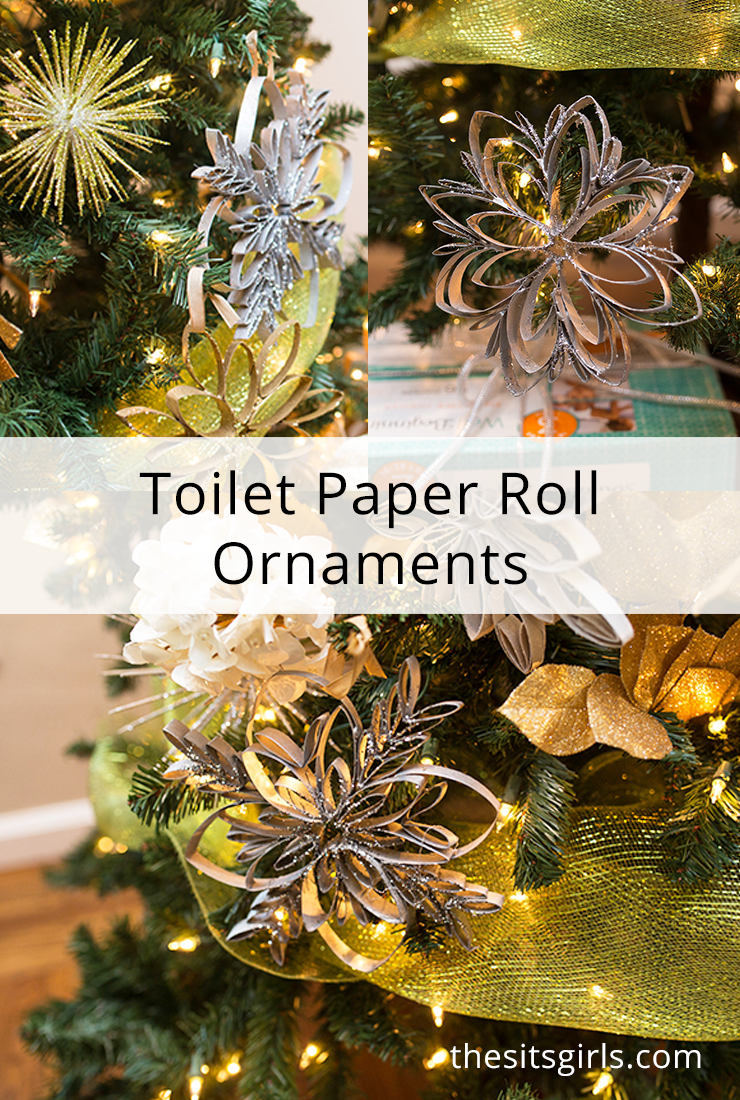 3. Again, TP tubes and glitter are the main materials used to make something spectacular for your tree. The Sits Girls made
Handmade Christmas Tree Ornaments
from the tubes by cutting them and assembling the pieces to form snowflake/flower inspired shapes. That could even be a fun kids' craft!
4. You could use any kind of wire you have around the house to create
Wire Angel Ornaments
like Rachel from Adventures of a DIY mom did. I think the primitive feel of these is so cool. And, look at the variety of shapes she was able to create! Of course, you could add other elements (beads/paper) to them, but the simplicity is stunning!
5. If you've visited my blog long enough, you know I'm a fan of old jewelry. Add in chippy paint, and it's all over for me! When I discovered these
Salvaged Jewelry and Wood Ornaments
from Carlene at Organized Clutter, I was absolutely swooning.
6. In addition to all the other craft supplies I hoard, wooden spools are definitely on that list. You can obviously buy them new at the craft store, but they can also be found at thrift and antique stores. Nikki at Whimsy Love made a
Wood Burned Spool Ornament
that I think is an interesting take on upcycling a spool.
7. Michelle at the Painted Hinge made some perfectly farmhouse-style
Mason Jar & Chicken Wire Ornament
s. The lids and wire are things that I know I have sitting around my house. And, I love how versatile the decorations for the inside can be. You could go in any direction with them!
8. I've got a few old paintbrushes saved to upcycle into something fantastic. I just haven't been able to decide what. I hadn't even considered making them ornaments. Mud Pie Studio has me re-thinking that with her
Paintbrush Ornaments
. I mean, how stinking cute are these!?
9. More wire! And beads!! Emily at Everyday Art shared these
Wire & Bead Ornaments
touting that they're even easy for kids to make. I love the idea of using up some of my bead soup and old wire. The quality of beads doesn't even matter because once made they just add a pop of color. Fabulous!
10. Can you guess what these
Mini Wreath Ornaments
from Smile like you Mean It are made of? Shower rings!! I've seen plenty of those at the thrift store, along with hunks of yarn. Of course, those materials can also be found at the dollar store too for inexpensive decorations.
11. Twigs and old paper are the key elements in
Recycled Paper Twiggy Tags
from Barb at Keeping Up with the Times. Old paper is one of my obsessions and the rustic-ness of the twigs warms my heart. So, these totally caught my attention.
12. Yes, more wire. The
Handmade Star Wire Ornaments
from Alyssa and Carla are so very simple and stunning. Any type of wire could likely be used to create your style. And, beads or other charms could easily be added for an extra touch.
13. Ornaments can be made for materials as simple as some paper. I adore the simplicity and bright colors in these
Paper Christmas Ornaments
from Dream a Little Bigger. The technique is easy enough and I can totally see using any variety of papers to create a version of these.
14. Tea Strainers!! What a great way to re-use something that might have otherwise been tossed aside. The addition of crystals just makes them sparkle. I love these
Tea Strainer Christmas Ornaments
from Sadie Seasongoods. It's a great reminder to look beyond the traditional craft supplies for inspiration.
15. Here's another idea that uses an unconventional kitchen item. The
DIY Vintage Farmhouse Style Baking Mold Ornaments
from Kreativ K are perfectly rustic but still shiny. And, the link is part of a DIY ornament hop for even more ideas! How about that!?
As for the two hops I saw,
Visit each of those sites for additional details about the hops (how to sign up, what the requirements are, etc.) If you're hosting an ornament swap/hop or know about one I can add to this list, please don't hesitate to let me know.
I have to admit that I haven't YET signed up for either of these hops, but now that I have all this inspiration...I guess I better hop on it (har har har). I hope this list has inspired you as well!